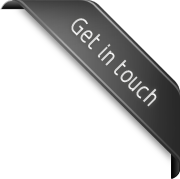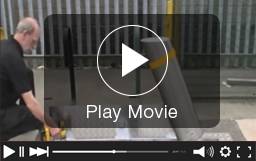 Slimline Rising Bollard specification:
Height Above Ground: 850mm
Footing Depth: Only 400mm
Options: Stainless Steel & Mild Steel Shrouds Available
The Safetyflex Slimline Rising Bollard is ideal for:
Airports
Sports Arenas
Retail Parks
Police Stations
Critical Infrastructure
Government Buildings
Conference Centres
Safetyflex solutions include:
Flexibility to design to your requirements
Manufacture of bespoke and one off products
On-site management and installation
Street furniture available on PAS rated spring bollards
High security fencing available on PAS 68:2010
Car Park Spring barriers tested to BS6399 and BS1680

Single Unit Install or Multiple Unit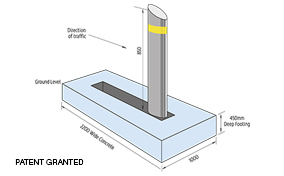 The new technology breakthrough in SHALLOW MOUNT RISING BOLLARD systems, it will keep bollard systems and ground work costs to a fraction of the old large systems. This new bollard rising system is designed by our new Micro Engineering Division to cope with today's demand for shallow mount systems in both manual and hydraulic systems.
It requires no mains power as it is POWERED BY A 18 VOLT CORDLESS DRILL. A new shallow rising bollard, it will stop a 7.5 ton truck at 30 mph or 48 km at 90 and 45 degrees from breaking through the security line. With a FOUNDATION OF ONLY 45 CENTIMETRES (18 INCHES) DEEP this system will also reduce the need to re-divert utilities. The system is the most economical on the market for both bollard systems and installation. It is also very low maintenance, once fitted as a stand alone single unit, it can follow the contours of the ground. After impact if the bollard or any parts in the system are damaged all the parts can be removed from the outer case that is concreted into the foundation and replaced. When fitted with a stainless steel bollard cover it is very aesthetically pleasing. These bollards are manually operated and require no mains power.
Tested to stop a 7.5 tonne truck travelling at 30mph/48kph at 90° and 45° degrees
PAS 68 Vehicle Performance Classification
Truckstopper RB001 Slimline Rising Bollard
Vehice Test Weight
Vehicle Class
Vehicle Speed kph
Vehicle Angle o
Vehicle Penetration m
25KG+ Dispersion m
Footing Depth mm

V/7500 KG

N2

48

90

3.2

0.00

450

V/7500 KG

N2

48

45

2.6

0.00

450
This Publicly Available Specification (PAS) has been prepared to address the needs of organizations who want assurance that vehicle security barriers will provide the level of impact resistance they are aiming for.
PAS68 identifies impact test methods, tolerances, test vehicle type and vehicle performance criteria that need to be met in order to conform to PAS68. It cites a classification system for the performance of vehicle security barriers and their supporting foundations when subjected to a single horizontal impact.
IWA 14-1:2013 For the past 10 years CPNI engaged specialist manufacturers and specialist consulting engineers to support the development of a comprehensive testing regime and test standard for the emerging security barrier market to adopt. This work culminated in the publication of IWA 14-1:2013 vehicle security barriers part 1: performance requirement, vehicle impact test method and performance rating.
Want to find out more?
If you wish to find out more about the Slimline Rising Bollard then please complete our enquiry form, alternatively you can call us at +44 (0) 2476 662116 or email us on