Can Be Off-Set if Required
Delivery & Install On One Truck
NO Mains Electricity needed
NO Need to install on Flat Ground
The System sits on Top of the Ground
Can be used for Temporary Events or Permanent Install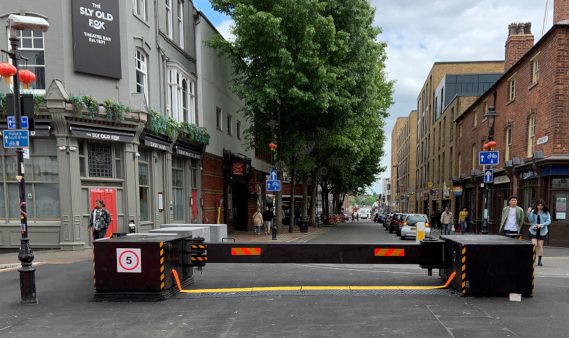 Secure, reliable and highly effective...
The Safetyflex Design team are pleased to announce that we have just crash tested our new ANTI-TERRORIST, SURFACE MOUNT, MANUALLY OPERATED HVM SWING GATE TESTED TO IWA-14, with 7200kg Truck at 40mph.
In today's HVM market place, the majority of swings barriers require expensive foundations, however, Safetyflex have designed a truly surface mount Swing Gate which requires NO ground fixings and is completely free standing. And has also been tested with heavy duty mats that take up to 50 tonne in weight and can protect the floor from damage. It can also be installed within 2 hours to secure vulnerable locations.
The appearance of Swing Gate 40 can be enhanced to blend in with existing street furniture with the addition of RAL colouring or stainless steel covers, similar to those shown below. This product is ideal for City Centres, where there is a requirement for pedestrian only zones. The Swing Gate 40 can be installed as a permanent solution or at temporary events due to the rapid deployment time and the fact that there is NO civil works required. The Surface Mount Swing Gate 40 is manually operated so there is NO power needed, making this product carbon neutral.
The barrier is simple to operate and we have ensured a lightweight operation with the weight of the initial opening at just 7kg. To open the barrier, there is a small locking pin that is removed from the main locking pin. This operation takes approximately 2 minutes and once it's removed, the barrier has the ability to swing either way. The hinged beam can be handed left or right when installing, you have the freedom to choose what side you would like the beam hinged on, and can be off-set if required. This Surface Mount Swing Gate 40 is the latest addition to Safetyflex's range of surface mount products which include our Crash Blocks, Surface Mount Planters, Fenceline Systems

Want to find out more?
If you wish to find out more about the SPRING GATE 40 then please call us at +44 (0) 2476 662116 or email us on