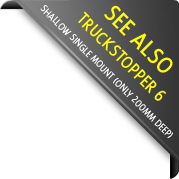 Truckstopper 7 specification:
Height Above Ground: 900mm
Footing Depth: Only 200mm
Options: Stainless Steel & Mild Steel Shrouds Available
The Safetyflex Truckstopper 7 is ideal for:
Airports
Sports Arenas
Retail Parks
Police Stations
Critical Infrastructure
Government Buildings
Conference Centres
Safetyflex solutions include:
Flexibility to design to your requirements
Manufacture of bespoke and one off products
On-site management and installation
Street furniture available on PAS rated spring bollards
High security fencing available on PAS 68:2010
Car Park Spring barriers tested to BS6399 and BS1680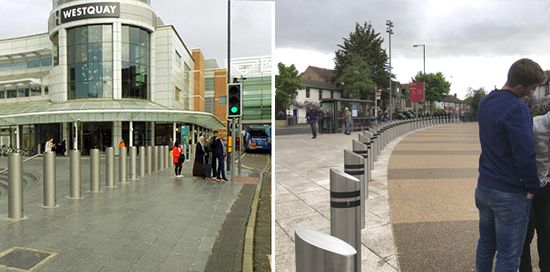 The Truckstopper 7-40 from Safetyflex
The Truckstopper 7-40 has been crash tested with 7500kg truck at 40mph at 90 and 45 degrees. It is a super shallow mount bollard with only a 200mm foundation and has been tested as a single unit. This makes the bollard the easiest anti-terrorist bollard to be installed in today's market place.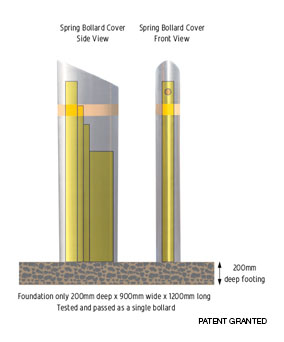 This bollard can be a fixed or removable bollard with shroud options of round, oval or rectangular. Safetyflex barriers are the only company in the world to offer this type of bollard with the slimline oval shroud which makes it the most slimline anti-terrorist bollard in the world and why so many architects and clients use our bollards for their prestigious projects.
If aesthetics and cost are important to your project, this is without a doubt the best possible solution. A range of crash rated street furniture is also available.
New technology breakthrough - foundation only 200mm deep. Tested and passed at MIRA as a single bollard.

This Publicly Available Specification (PAS) has been prepared to address the needs of organizations who want assurance that vehicle security barriers will provide the level of impact resistance they are aiming for.
PAS68 identifies impact test methods, tolerances, test vehicle type and vehicle performance criteria that need to be met in order to conform to PAS68. It cites a classification system for the performance of vehicle security barriers and their supporting foundations when subjected to a single horizontal impact.
Want to find out more?
If you wish to find out more about the Truckstopper 7 then please complete our enquiry form, alternatively you can call us at +44 (0) 2476 662116 or email us on